Restoration of the Oast House
17 January 2020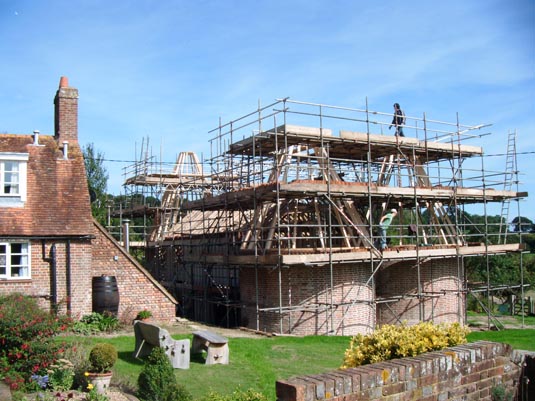 The Oast was built around 1840 and for the following 130 years it was the kingpin on the farm when hops were Hare Farm's main crop and income.
The hops were dried and stored within the Oast's three round kilns. A lucrative crop in their heyday, hops gradually lost their viability in the 60s. The 1970 season was the Oast's last. From then, the Oast wasn a redundant building, no longer useful for modern farming methods. The Oast's restoration started in March 2010, and its full conversion into a self catering holiday home completed in June 2011.
After fifteen years' duty as the roof over Mum and Dad's garden tools and bits and bobs, holes in the roof and ever mounting instability, meant it was a "do or die" situation. The building needed to be saved. Our brief throughout was to restore the building, and to sensitively repair the original design, even to retain its interesting mix of window and door shapes and styles.
The oast had been built into a bank. Damp was a major problem. Tonnes of soil were dug out to reveal the full height of the beautiful roundels. Then the oast house could be fully underpinned. We kept all we could by way of original materials, and only replaced what we really had to. Today, as much of the brickwork and timber is exposed internally as possible. The roof repair included at least half of the original tiles, with new coming from the only remaining Kentish kent peg tile maker, Babylon Tile Works.
Danny Butler and his team from down the road in Westfield led the build project and tirelessly nurtured the building back to its original state. Every roundel's roof was rebuilt by hand, a tremendous technical challenge when the building is not square. And when there's three roundels to do (not many oasts have three roundels for sure). After many years naked of cowls, the oast could stand very tall and proud again. Two of the cowls were airlifted in and the largest one, complete with boxing hares on its weather vanes, was carried up by human hands on a very cold day in November.
Restored again, the sleeping beauty has finally awoken and can be enjoyed by all who stay in this large, spacious and stylish self-catering holiday home. We can be sure now she'll live for many generations to come.