Hare Farm from an Artist's view
14 June 2019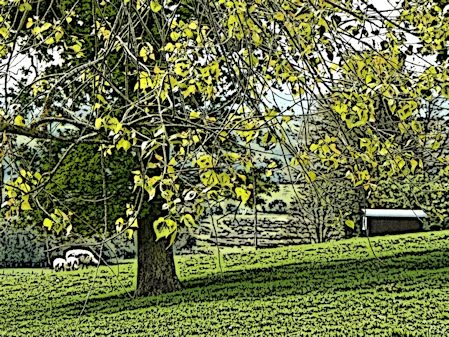 Hare Farm has been photographed a lot by ourselves and our guests, and now we have an artist's view.
Our near neighbours, Becky and Gary from along the Brede valley (at Float Press) start with a photograph, then apply a digital woodcutting technique to create a unique take on a scene. We now have five bespoke pieces of art housed at the Oast.
It's was a joy to see the results of the couple patiently shooting and working through the seasons to create a gallery that provide pieces of art to record life at Hare Farm in 2015.
As well as the prints from the farm, we also have prints of Float Press's wider works, all taken along the Brede Valley somewhere. Their studio is open for visitors, and a few guests have been in touch and purchased their own print to take home.
One of the artworks in the Oast has been created so to wrap around the curved wall of the lounge.
It was a super project to work on, with a couple who share our love of the Brede Valley. With Float Press having the skills to enable the digital woodcuttings to be applied to tea towels, cushions, lamp shades…we may well not be stopping there!
For more details on Float Press' unique range of handmade products, including prints, cushions, cards, canvases and boxes, visit www.floatpress.co.uk.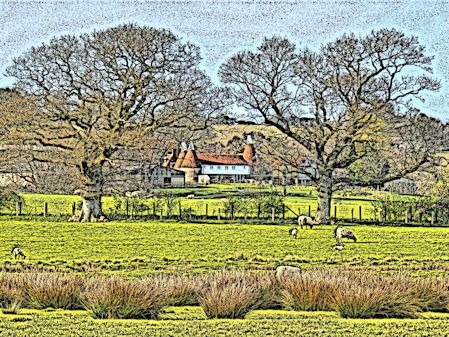 Above: View up from the Brede Valley marshes to Hare Farm Oast.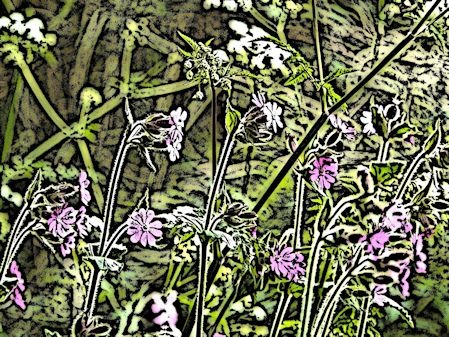 Above: Springtime campions along the drive to Hare Farm, Brede Valley, Rye.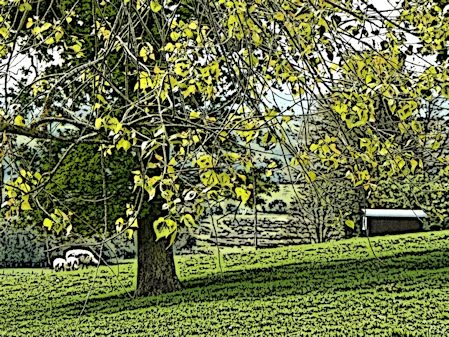 Above: Hare Farm's shepherd's hut set in lush pastures of the Brede Valley, Rye.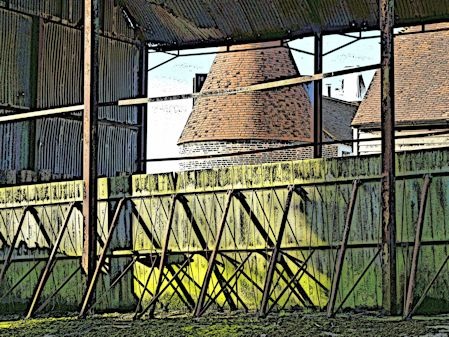 Above: Through the dutch barn to the oast house. Hare Farm, Rye.
If you also like Float Press's interpretation of the local landcsape through their digital woodcutting technique, you may enjoy a visit to Becky and Gary's studio set in another beautiful part of the Brede Valley, even closer to Rye. You are always welcome to visit, by prior appointment. Find out more at www.floatpress.co.uk