Winter Glamping
Unlike camping in the past, glamorous camping (aka glamping) can be enjoyed throughout the year, come rain, shine, frost or snow.
Our shepherds hut is very cosy and snug. It is fully insulated and heated by the wood burner, soft bedding and throws. Although there is no electricity in the hut, this makes winter glamping even more special.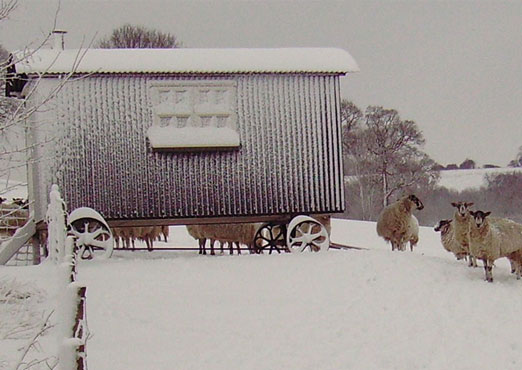 Winter days can be crisp and bright or windy and rainy. Do not worry. The harsher the weather, the experience can get even better. Imagine gusty winds and rain lashing down outside. Inside the hut, in your snug cocoon, you are toasting crumpets on the wood burner, drinking hot chocolate (or perhaps mulled cider), snuggled up reading a book or playing cards, watching the rooks and crows wheel around in the stormy sky. You are in your own warm, isolated spot at one with nature.
Taking advantage of the outdoors can be just as rewarding. Firstly wake up and enjoy sunshine streaming through the window, which opens up to crisp white fields in the everlasting rolling valleys around you. Feast your eyes on picture-postcard scenery lazily observed from a cosy bed, accompanied by a mug of tea brewed on the camping stove.
Your day could involve exploring the medieval town of Rye, a trip on the steam train at Tenterden or a brisk walk at one of our local beaches. But if you want a slower pace, step outside the hut and enjoy one of the walks on your doorstep, including a stroll to your lunch in front of another roaring fire, this time at our local pub, The Red Lion.