A Walk Around The Oast
From the main oast house door, enter into a very large oak-floored living area with two roundels at one end, forming a exposed curved brick wall, and then another roundel at the other end.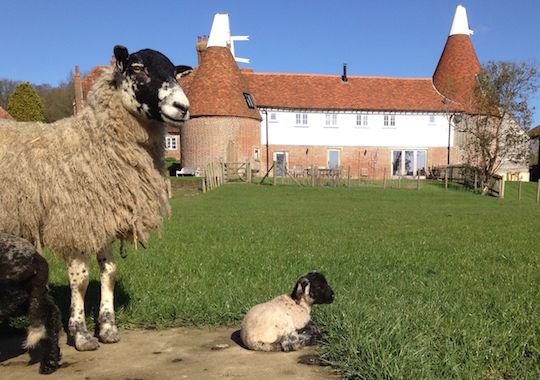 This main living area is open plan with an oak staircase to your right and a double-sided woodburner to your left which roughly splits the room into two areas. The dining area is close to the kitchen, and seats 12 on a large oak refectory table. The lounge area is to your left with two large sofas (one sofa bed, used when parties are 11-12 people) and a flatscreen tv with DVD and satellite including Sky Sports. Take your pick from where to take in the spectacular views out of this enormous space as there are two glazed doors, plus a set of bi fold doors leading on to the terrace.
The kitchen is housed in a roundel, making for an interesting space to prepare meals, plus there are 3 barstools and an island to allow for informal eating and socialising too. A double-oven Rangemaster cooker takes pride of place, with beautifully tactile corian work tops and cream units extensiveing either side. A fridge, fridge/freezer, dishwasher and microwave also feature.
The roundel next to the kitchen is divided between a wet room and also a utility room where an additional sink, units, washing machine and drying area are set out. The wet room with its slate floor has a powerful rain shower, wc and basin.
The fifth bedroom occupies the third roundel downstairs. It has a king-sized bed for sleeping or lounging, and the room also includes a sofa and TV. Being such a large room, the bedroom also can double up as an ideal break-out apace by day for a quiet space, TV time, or for anyone to escape to read or enjoy a different view out towards the magnificent Brede Place on the valleyside beyond.
The luxury of underfloor heating is in every room downstairs.
Walk up the open tread staircase to a spacious landing stretching up high into the eaves with many original timbers on show. On the landing, an original hop pocket (sack for storing hops) and scuppett (very large shovel-like tool) are displayed.
Off the landing are the two twin bedrooms each in their own round room with high cone-shaped ceilings. (At point of booking, you can request that a pair of single beds be zipped and linked as a double bed). Cross the landing to a bright family bathroom with a large bath, basin, wc, and yet another far reaching view down the valley.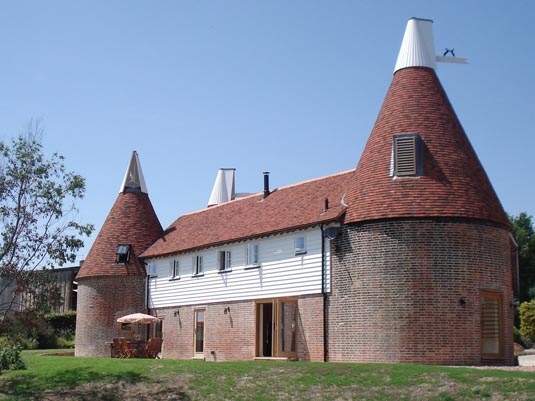 Turn the corner and head down to both master bedroom suites. The first is what we call the "square" master, and the second the "round" master. The square bedroom is exceptionally spacious with cream and pink furnishings including a king-size iron bed, antique chest of drawers and built-in wardrobe. Its two windows are dressed in sumptious floor-length curtains, a perfect framing for your view whilst lying in bed. The large ensuite bathroom includes a large shower, big tub-like bath, wc and basin.
The "roundel" master suite is simply magical and has the ultimate luxury of its own hallway space as well as a huge round bedroom with endless height reaching up to the very top of its coned roof. Golds, silvers and bronzes adorn this room, with the king sized bed in the centre and a pendant light dropping down from above. The bed has a wallpapered straight wall behind, which hides a walk-through wardrobe. The ensuite has its own curved mosaic wall, a shower, wc and basin.
The oast house's half an acre plot includes a huge lawned area ideal for ball games (some provided) and generally letting off energy. Or if you need a smaller gated area, it's to the front of the house and includes the terrace, table, chairs and barbecue. Sit back from your terrace or lawn and enjoy the expanse of of rolling pastures and spectacular views stretching for miles. Watch out too for the sheep and lambs bravely grazing right up to your fence. And let's not forget the barn owl flying up and down the valley in search of food for its young.
The oast is spacious and beautiful, inside and out. It is an ideal base for large groups of families or friends, and a perfect place to celebrate a very special occasion.